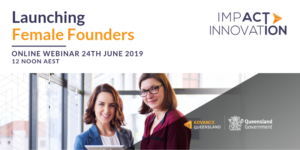 The Queensland Female Founders program has launched!
Our first BoostHer webinar on Monday 24 June will introduce the ways you can access the expertise and opportunities of this latest Advance Queensland initiative.
Grab a coffee or your lunch and join us online to hear from some extraordinary Queensland female founders who have contributed to the program's development, including Yasmin Grigaliunas (fresh off the plane from introducing her business, World's Biggest Garage Sale to the World Circular Economy Conference in Finland).
Your host, Kellie Dyer, Female Founders Program Lead from Impact Innovation Group, will answer your questions about the program and how to apply.
Jan Easton, Chief Operating Officer of Advisory Board Centre, will also be on hand to answer questions about the opportunities the Centre will be offering as part of this program.