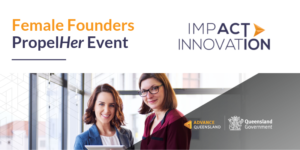 Join us for a Female Founder event in Cairns!
Our next Female Founder event is a PropelHer session on Wednesday 24 July. 
Join us to hear from Anna Guenther, Chief Bubble Blower from PledgeMe about all things entrepreneurial and equity crowdfunding. 
Your host, Kellie Dyer, Female Founders Program Lead from Impact Innovation Group, will also be at the event to answer any questions you have about the program.