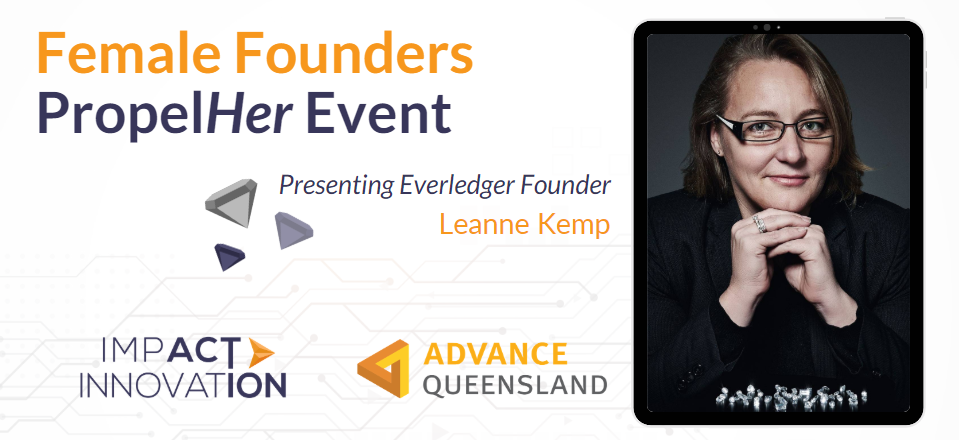 Join us for our next Female Founder event on Wednesday, August 7th 2019 in Townsville
We're proudly celebrating Female Founders with special guest Leanne Kemp, founder of Everledger on Wednesday, August 7th 2019 where we will be discussing what it's like to start a global technology enterprise, scale it and thrive​!
Leanne has been pushing the boundaries with Everledger using blockchain to build a universal verification system that enables the tracking and protection of high-value assets such as diamonds, fine art and wine. Following the event, we invite you to network with Leanne and other business leaders.
Female Founders Program Lead and your host, Kellie Dyer from Impact Innovation Group, will also be at the event to answer any questions you have about the incredible Female Founders program. To find out more about how we support, guide and connect the QLD Female Founder community, please check out our website.
We're looking forward to your presence and participation on Wednesday, 7th August 2019. Please remember the following to prepare for the event:
If you are intending to invite someone along to this event please ensure they register prior to attending.
Refreshments will be provided.
Sometimes air-conditioning can be tricky to regulate, so bring a light jacket if you're likely to feel cold.
We aim to begin our fully subsidised events promptly at the assigned time, so please arrive about 10 minutes before the start.
If you are running late or unable to attend, please please call 07 3041 1128 or email femalefounders@impactinnovation.com to let us know.
For those unable to attend, please sign up for our free newsletter to find out more about future events or follow us on our socials.