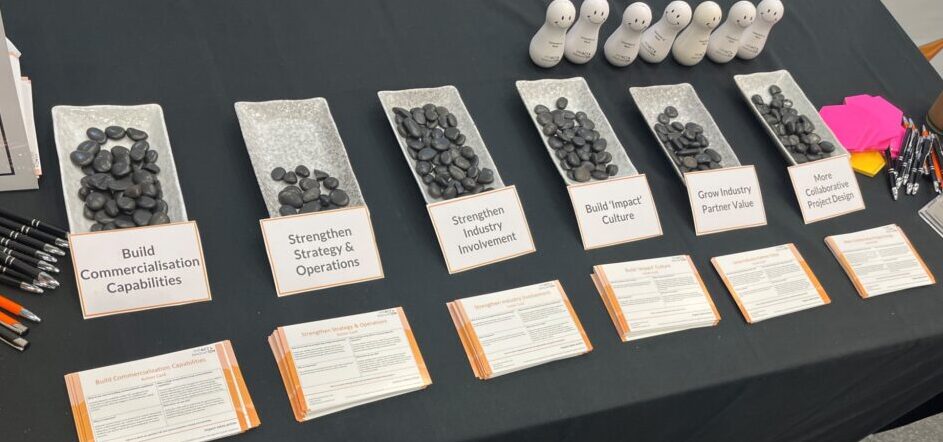 Posted 2 months ago
Impactful Results
Cooperative Research Australia's Collaborate Innovate 2023 Conference was the perfect place to talk research impact with Australia's research community.  
Over three days, Impact Innovation asked researchers what they would focus on to generate more impact from their research. We gave them three pebbles to cast their votes. The results are in and here are the top three responses:
1st Place: Strengthen Industry Involvement (51 votes) 
To generate more impact, it's critical projects transition from being research-led to being more industry-led especially as the project moves more into the development and deployment stages. 
At Impact Innovation, we work with clients to map project roles and responsibilities across each stage of the pipeline. We help research organisations understand industry partner expectations and change the structure of projects at the development and deployment stages. 
2nd Place: Build Commercialisation Capabilities (47 votes) 
To generate more impact, management and research teams within research organisations, as well as industry partners, need to confidently and competently lead, drive and engage in commercialisation-related activities. 
At Impact Innovation, we can undertake a skills audit and tailor training and workshops to build capabilities across commercialisation, R&D and innovation.  
3rd Place: More Collaborative Project Design (39 votes) 
To generate more impact, it is vital for research organisations to design (and re-design) projects with the needs of all stakeholders in mind. The hierarchy and needs of key parties change over time and this should be reflected in the project design! 
At Impact Innovation, we can help with collaborative project design and decision-making support. 
Coming it at 4th place was Build 'Impact' Culture (36 votes). This one generated a great deal of discussion around what we actually mean by an 'impact' culture. In 5th place was Grow Industry Partner Value (33 votes). We had hoped that this one would rank higher up on the list. In last place was Strengthen Strategy and Operations (15 votes).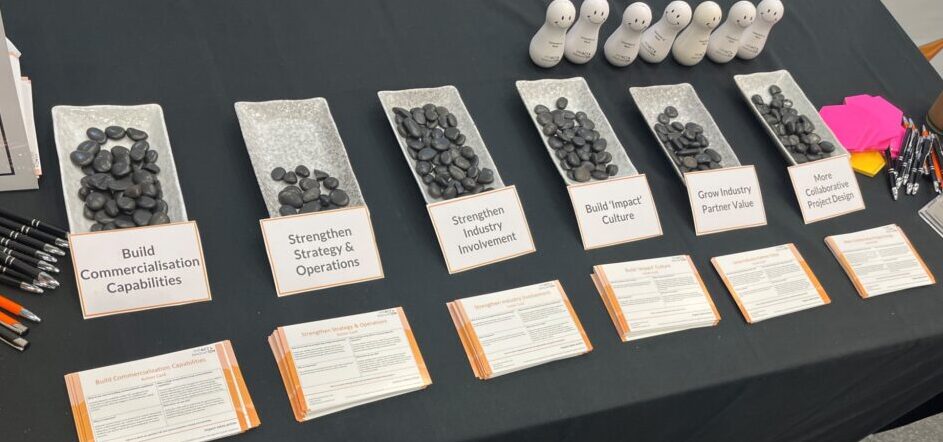 We asked Collaborate Innovation 2023 what they would do to generate more impact from their research by voting with three pebbles.
What did we hear at Collaborate Innnovation 2023?
Unsurprisingly, everyone wants to achieve impact, but it needs to be better defined across the sector.

There is a need for more decision-making support in complex, multi-stakeholder environments.

There is a need to improve the way industry partner value is defined and achieved through research projects.
Where to from here? 
Talk to us about:
Impactful CRC Bids
We don't take a cookie-cutter approach to CRC bids. Talk to us about how our diverse team can contribute to your bid to make it more fundable. 
Excellence in CRC operations and commercial outcomes
We specialise in CRC strategy, project design and multi-stakeholder decision-making process design.
Training and Capabilities
We offer beginner, intermediate and advanced tailored training for CRC management, researchers and industry partners.  
Drop us a line at:
info@impactinnovation.com
1300 299 505
Back