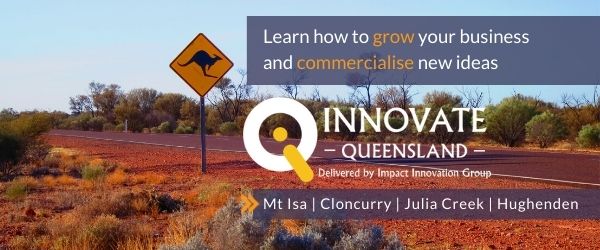 Outback Innovators Gain From Free In-Person Workshops and Mentoring
Posted 3 years ago
Business owners in Mt Isa, Cloncurry, Julia Creek and Hughenden will learn more about creating new social and economic impact when they attend Innovate Queensland's free (government funded) commercialisation workshops and training in December.
Delivered by Impact Innovation Group for the Queensland Government's Advance Queensland initiative, the training will help local businesses – established enterprises, start-ups and scale-ups – understand the best ways for them to turn new ideas into viable ventures.
Impact Innovation Group general manager and experienced entrepreneur, Cameron Johns, will run the two-hour workshops which will be followed by personalised mentoring sessions at each town (dates and times listed below).
Mr Johns will focus on practical approaches to innovation, ideal for adapting to challenging times. Participants will learn how to utilise their strengths through business model renovation, communicate clear value propositions to customers, use technology to connect with new markets, and explore different options for funding and investment.
"Regional businesses are just as innovative as their urban counterparts, but they don't have the same ready access to expert knowledge about turning their ideas into value-adding products and services," said Mr Johns.
"That's why we're bringing the Innovate Queensland program back to the north west. Last year's Outback Commercialisation Tour was very successful and with COVID-19 restrictions eased, we believe people are keen to connect in person for training again."
Dr Regan Lynch from the Great Artesian Veterinary Surgery attended the interactive, practical training in Hughenden in May 2019.
"We know how much people appreciate specialist expertise coming to remote locations because that's something we have been doing to grow the business," said Dr Lynch, whose work includes regular mobile clinics in other regional towns.
"At the Innovate Queensland workshop last year it was really helpful to get a better understanding of how to generate value from new ideas for the business and for our clients," she said.
Little Sparklers founder and managing director, Carly Grubb, said the Mt Isa workshop she attended last year was valuable for meeting other local entrepreneurs in person, especially as her team is spread across the world and interacting online was already normal practice for her.
"At the time, I was considering what type of business model would be best for The Beyond Sleep Training Project I'd been developing and the workshop helped to clarify how it might work as a social enterprise. Little Sparklers is the result and we have advanced quite a lot this year, despite COVID," Ms Grubb said.
The dates and times for this year's Outback Commercialisation Tour are:
MT ISA: Tuesday 1 December, 2 pm – 4 pm, Outback at Isa
CLONCURRY: Wednesday 2 December, 10 am – 12 noon, Cloncurry Shire Hall
JULIA CREEK: Wednesday 2 December, 5 pm – 7 pm, Julia Creek Civic Centre
HUGHENDEN: Thursday 3 December, 5 pm -7 pm, Hughenden RSL Hall
To secure a place at one of these events, click here to register
More than 5,500 people across the State have attended Innovate Queensland's Skills Development activities since 2015, giving them an overall satisfaction rating of 92%.

---
About Innovate Queensland
Innovate Queensland is a state-wide program of practical activities supporting the Queensland Government's Advance Queensland initiative, designed to help small businesses:
• reduce innovation development costs
• access innovation expertise
• reduce time lags from idea to income
• better target market needs and increase market uptake
• choose the right business models
• integrate innovation into existing enterprises
Innovate Queensland delivers workshops, webinars, collaboration activities and the My Innovation Advisor consultation service that help Queensland enterprises to develop the skills, knowledge and networks required to commercialise new products and services, develop winning business strategies, and grow.
Back