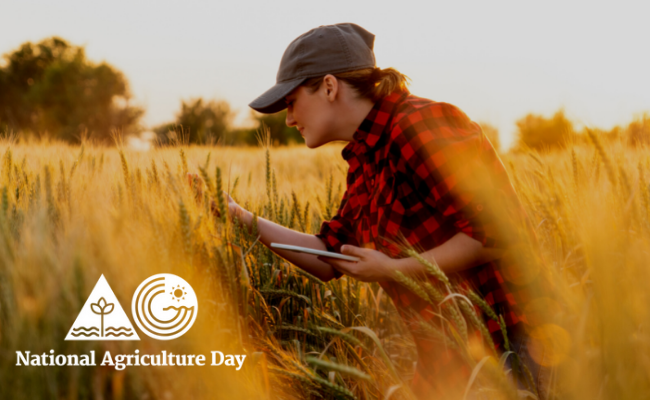 Celebrating Innovation in Agribusiness for National Ag Day 2021
Posted 2 years ago
This National Agriculture Day 

#AgDayAU 

(Friday 19 November 2021) we're celebrating some of the innovative agribusinesses we've worked with over the past few years, and the contribution they are making to moving us towards a more sustainable future.
Aussie innovators Agerris, Bioherbicides Australia, Invest Inya Farmer and Aegic Oats are developing solutions that drive sustainability, productivity, and profitability across Australian farms.
Agerris
Agerris has commercialised the Digital Farmhand, an intelligent robot being used by commercial vegetable growers to produce fresh food in a sustainable way.
Agerris is revolutionising farming with its Digital Farmhand technology, integrating robotics into best farming practices to deliver truly smart farms.
The Digital Farmhand precisely and mechanically removes weeds as it travels along vegetable beds, with future plans to include individual plant spraying, thinning, and harvesting depending on the needs of the farmer. It is mobile, solar-electric, simple to use and can be remotely controlled or run in autonomous mode. The technology increases farm productivity, reduces chemical requirements and labour costs, and helps build a more sustainable agriculture industry.
Impact Innovation's Managing Director, Brian Ruddle, was engaged by the VC investor in 2016 to assess the potential of investing in the innovative ag-robotics technology.
"It was clear, even in the early stages of commercialisation, that this technology had a huge potential impact for sustainable farming and food security," said Brian. "We are looking forward to seeing how future iterations progress, and hearing more about the benefits this technology will provide for farmers, not just in Australia but globally too."
Read more about Agerris and the Digital Farmhand on the Agerris website.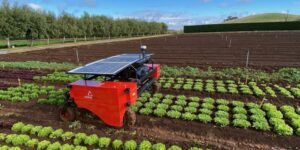 Bioherbicides Australia
Bioherbicides Australia (BHA) combine science with nature to give landowners the winning edge over weedy pests and non-productive land.
Australia's farmers spend more than $1.76 billion every year on chemical herbicides to control weeds. Unfortunately, this has also helped to drive Australia's herbicide resistance problem and worse, the chemicals themselves often fail to destroy the seeds of invasive introduced species. Alternative weed management often involves the invasive mechanical clearing of land. Bioherbicides Australia (BHA) recognised the need for a natural, ecologically sustainable alternative to chemical herbicides. Their unique products can kill woody weeds on pastoral land, parklands and tree plantations without the need for invasive mechanical clearing or potentially dangerous chemical spraying.
Impact Innovation Group worked with Bioherbicides Australia and UQ several years ago to provide support in commercialising a range of bioherbicides for woody weeds and to assist with their initial seed investment round and provide ongoing commercialisation support.
Bioherbicides Australia is working with the University of Queensland and the agricultural industry to reduce and eradicate some of Australia's greatest weed threats, and continues to innovate and commercialise new products as their research evolves.
Read more about Bioherbicides Australia on the Bioherbicides Australia website.
Invest Inya Farmer
What if anyone could invest in agriculture, without owning a farm?
Nathan MacPhee has recently launched the pilot app for his startup, Invest Inya Farm (IIF), with cattle in Mansfield, oysters in Bateman's Bay and ginger in the Northern Territory all being trialled.
Impact Innovation Managing Director Brian Ruddle is Chair of the IIF Advisory Board, and has been working alongside commercialisation expert Angus Crossan to support capital raising activities.
Nathan's technology offers something completely new to agribusiness in Australia – the ability for individuals to invest directly into farming. Through the platform, people can invest in a farm's production and reap a profit when the farmer eventually sells the end product.
"For farmers it injects new capital into operations, improves cash flow and liquidity and mitigates risk, as upfront costs are fractionalised," said Nathan. "And for investors it is a risk that offers a lucrative return.
"Agriculture is essential to our survival, yet 90-95% of the community can't participate in the process. What if they could?"
Find out more on the Invest Inya Farmer website.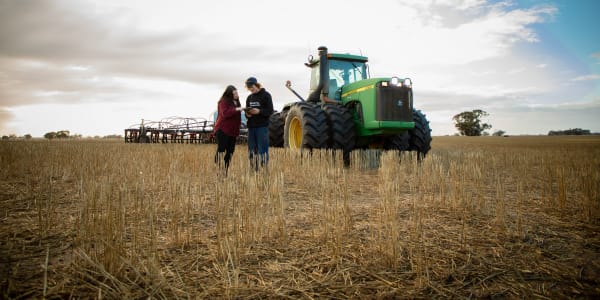 AEGIC Oats
Australian Export Grains Innovation Centre (AEGIC) is an independent, not-for-profit company established in 2012 to increase value in the Australian grains industry, exploring innovative new plant-based products such as oat noodles and oat 'rice'.
Australia is a world leader in the production of high-quality milling oats for the international market. Oats are widely recognised for their nutritional and health benefits, and Australian milling oats are recognised for their high quality, including excellent taste and aroma, and are preferred for their ease of processing, high milling yield and groat percentage. AEGIC increases value in the Australian grains industry by gathering, analysing and sharing market intelligence the industry needs to breed, classify, grow and supply grain that markets prefer.
Australian oat noodles and oat 'rice' are set to become popular pantry staples here and overseas, once new manufacturing processes developed by AEGIC are matched with the right commercial partners. This year AEGIC enlisted Impact Innovation's help to identify food brands, manufacturers or investors who can fast-track getting these new plant-based products to market and help move oats beyond the breakfast table to becoming an option for lunch, dinner and snacks.
AEGIC Chief Executive Officer Richard Simonaitis said access to AEGIC's oat product intellectual property would give industry partners a rare opportunity to launch first-to-market Australian-origin export products.
"The demand for whole grain products is growing rapidly around the world, especially in Australia's key export markets, as Asian diets continue to evolve," Mr Simonaitis said.
"Awareness of the health benefits of whole grains is increasing among Asian consumers. Health authorities and governments are increasingly recommending that consumers substitute refined grain staples like white rice with whole-grain cereals, such as oats. The oat rice prototype has received excellent reviews from preliminary tasting panels with Australian and international participants."
Find out more about AEGIC and the novel Australian oat products they are developing on the AEGIC website.
---
Impact Innovation works with a range of research organisations, businesses, and universities to help commercialise new products and develop innovative solutions to persistent problems. Explore our commercialisation support services  or contact us to discuss your current project and how we could help.
Back