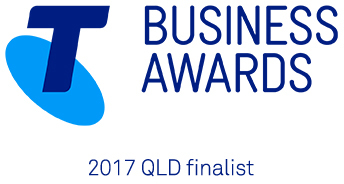 Impact Innovation Named Telstra Business Awards Finalist
Posted 6 years ago
Impact Innovation Group has been named a Queensland Finalist in the 2017 Telstra Business Awards.
Telstra's annual national showcase of Australia's high performing smaller enterprises celebrates their achievements and entrepreneurial spirit.
Impact Innovation Group's managing director, Brian Ruddle, said the company was very proud to have been selected as a state finalist in Australia's most prestigious business awards program.
"The Telstra Business Awards are highly competitive, and reaching the State Finals is a major achievement for our hard-working team," Brian said.
"When I started this company in 2006, I hoped to serve an unmet need for businesses to accelerate getting their innovative ideas to market. The need has grown across Australia, and Impact Innovation has grown in response.
"Something we always impress upon our clients is that commercialising innovation is a team sport, and making sure you connect with the right people with the right skills at the right time can determine your venture's success or failure.
"It's how I have grown Impact Innovation Group from a single consultancy to a team of managers, project coordinators and associates all ensuring that our clients generate true value and a measurable return on innovation investment.
"To have the Telstra Business Awards recognise us for this approach to business is a great honour."
Telstra Business Executive Director, Brendan Donohoe, said this year's finalists were demonstrating what it takes to become 'that' business – a leader in their field, a name that is trusted and admired and being an organisation that inspires others. Read the official 2017 Telstra Business Awards media release here.
The Queensland winners will be announced at the Telstra Business Awards dinner on Friday 14 July.
The event will include a big screen displaying messages from Impact's clients, supporters, channel partners and suppliers. Messages can be sent to https://www.telstrabusinessawards.com/mos.
#TelstraBizAwards
@TelstraBusinessAwards
Back