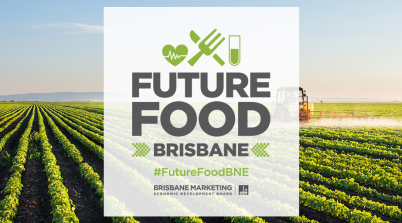 Dishing up innovation at Future Food BOOTCAMP 2018
Posted 5 years ago
Impact Innovation Group general manager Cameron Johns will join a panel of experts on Friday 23 March who are supporting food innovators and entrepreneurs at the first Future Food bootcamp run by Brisbane Marketing.
Bringing together local trailblazers across food, business and investment, the event will serve up an appetising menu of discussions about opportunities to accelerate innovation in food, from test tube to tasting plate.
"We agree with Brisbane Marketing that our city – and indeed the whole of southeast Queensland – has the right ingredients to shape the future food and beverage market, so let's all get around the table and find out what we can package as a region," Mr Johns said.
"When we combine research and technology expertise with quality products, modern infrastructure, a business-friendly environment, and plenty of entrepreneurial spirit, we can cook up more than a mere treat for investors who are hungry for food innovation."
Program highlights
Innovation & Research – Discover the latest trends in food, including complementary local research and development
Who Can Help My Food Business? – Digest and connect to local expertise, buyer networks and infrastructure right here in southeast Queensland
Money Matters – Learn about finance, grant funding, and attracting investment
Need Business Acceleration? Preview upcoming accelerator activities for reaching global markets and product development.
Date: 23 March 2018
Where: Brisbane Marriot Hotel
Cost: Free Event
Register now: http://www.futurefoodbrisbane.com.au/
Back