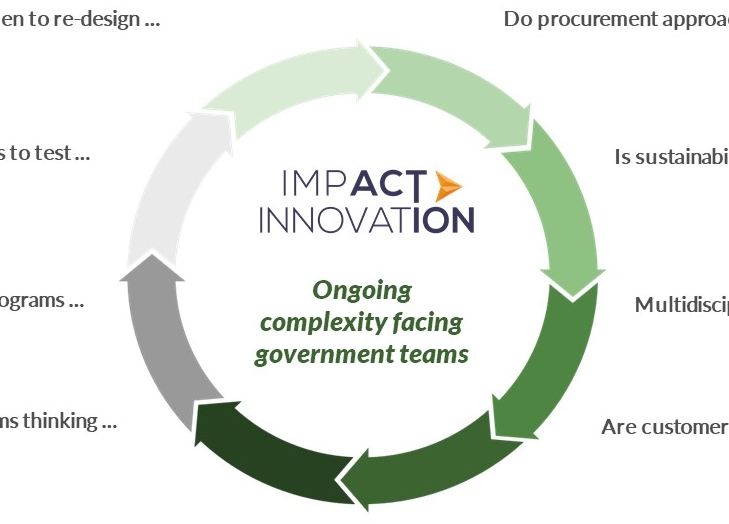 Testing a new model for public sector innovation
Posted 4 years ago
To wrap up the Queensland Government's program for Innovation Month (a national public sector initiative), Impact Innovation was invited to share a new model for understanding the complexity of creating an innovative government program.
The Complexity in Government Innovation Map considers such elements as factoring in procurement processes, how to engage multi-disciplinary teams, reviewing stage gates, and incorporating systems thinking in the design process.
Embracing this year's Innovation Month theme of "Test. Fail. Learn. Deliver.", Impact Innovation managing director Brian Ruddle took this opportunity to test the model with the broad cross-section of innovation managers attending the seminar.
"We designed the Complexity in Government Innovation Map based on our extensive experience of working with local, state and federal government departments on their common innovation challenges," said Brian.
"This event allowed us to validate the model's assumptions. The feedback we gathered will be used to help us support future government clients who are designing or renovating their innovation systems," he said.
The seminar was attended by representatives from Royal Brisbane and Women's Hospital, Queensland Health, Education Queensland, the Public Trustee, and the Departments of Housing and Public Works; Natural Resources, Mines and Energy;  Transport and Main Roads; Environment and Science; and State Development, Manufacturing, Infrastructure and Planning.
To find out about the Complexity in Government Innovation Map, particularly how it can help you navigate the roadblocks and implement sustainable innovation programs, contact Impact Innovation on 07 3041 1128 or send an email to info@impactinnovation.com.
Held annually in July since 2011, Innovation Month is an Australian Public Sector-wide initiative, dedicated to showcasing and celebrating thinking differently, being creative and trying new approaches in government. Innovation Month is coordinated by the Public Sector Innovation Network and includes events in every state hosted by government, private and academic organisations, tailored to an overarching theme.
Back