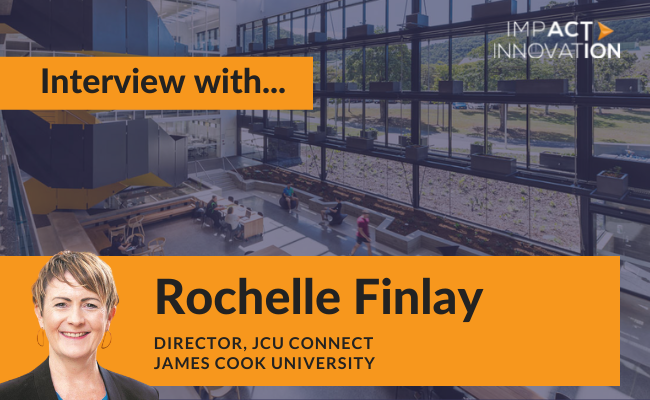 Interview with Rochelle Finlay: Director JCU Connect at James Cook University.
Posted 3 years ago
Impact Innovation's series of interviews exploring the habits, traits, inspirations, and ambitions of leading innovation professionals.
---
This month we spoke to Rochelle Finlay, Director JCU Connect at James Cook University (JCU). Rochelle's international career journey began with microbiology in New Zealand and evolved to research management in the UK before she came to Australia, focused on leading research and innovation. Rochelle shares her favourite software for intellectual property management, her strategies for staying on top of industry news, and how mindful breathing has improved her ability to focus.
What's your background and how did you find your way to your current role?
My background is in environmental and food microbiology. After completing my degrees from the University of Otago and Lincoln University in New Zealand, I started working in a water microbiology lab under a government funded research program focussed on recreational water quality standards. After moving to the UK, I found my way into research management within the National Health Service. That opened the door to a broad range of opportunities and most importantly, helped me build strong networks in New Zealand and Australia, ultimately leading me to JCU.
What does your current role involve?
As Director JCU Connect I lead a team of professional staff who provide leadership and guidance to researchers and our partners across blue-skies, industry-led R&D, commercial activities, commercialisation, and innovation.
In mid-2016, I joined JCU as the Director of the Research Services Directorate – the research support, partnership and commercialisation arm of JCU. I have since re-branded and re-launched the directorate as "JCU Connect", in recognition of the need for JCU's expertise and resources to be more accessible to industry partners, and to improve alignment with Australia's current innovation agenda, policies and funding mechanisms.
In essence, JCU Connect is a "one-stop-shop" for researchers seeking assistance with grants for competitive funding, industry-led research partnerships, ethics, animal welfare, research information, commercialisation of intellectual property, and innovation activities. It is also the "front door" through which industry (government, business & community) can engage with the breadth and depth of JCU's research and commercial expertise, intellectual property, facilities, research stations, analytical services, and innovation centres and activities. A critical focus for me at JCU Connect is the development and maintenance of long-term multi-faceted partnerships.
What time do you get up in the morning? Do you have a regular morning routine?
I usually get up at 5:30am. I like to start the day with a swim or a walk, followed very closely with coffee.
What is your approach when a project gets stuck or delayed?
I tend to be pretty analytical about delays or blockages in projects. Once I am clear about the real reasons for delay, I like to brainstorm solutions with colleagues and teams.
What program or software would you be lost without at work?
I am pretty reliant on Minuet – IP management software by Inteum Company. I find the dashboards especially useful, as they enable me to check in on research, business development and commercialisation partnerships and activities across JCU.
Has a failure, or apparent failure, set you up for later success?
A job I loved in New Zealand ended due to a restructure, which felt like a failure at the time.  Ultimately it was the best thing that could have happened. It led me to Australia and to a far broader range of opportunities and networks.
What is your biggest challenge currently?
On a work front, my biggest challenge is locking down our strategy for the next three years and ensuring we have the resources to make it happen.
What behaviour or habit has most improved your life?
I recently discovered breathing. There is a lot of literature presenting evidence that deep breathing techniques can provide energy, support health and increase focus. Amidst the many challenges of 2020, I have found mindful breathing a great way to relax and re-focus.
How do you stay up to date on industry news?
I mainly use the notifications function in LinkedIn, so I can follow the companies and individuals I want to hear about.
What are you most looking forward to in 2021?
I wish I could say normality! Perhaps settling into the new normality, and building on those really important local and regional networks.
If you'd like to connect with Rochelle, you can find her on LinkedIn
Back