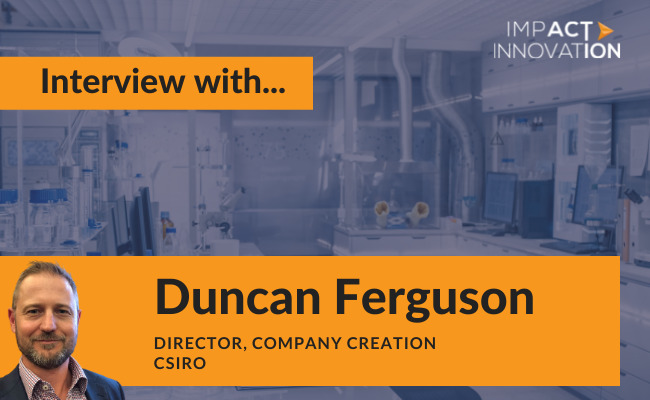 Interview with Duncan Ferguson, Director, Company Creation at CSIRO
Posted 3 years ago
Impact Innovation's series of interviews exploring the habits, traits, inspirations, and ambitions of leading innovation professionals.
---
This month we spoke to Duncan Ferguson, Director, Company Creation at CSIRO. Duncan leads a dynamic team at CSIRO tasked with delivering a new model for collaboration with industry partners. The model has so far achieved some incredible results, including plant-based meat company v2food which launched in 2019 and has since raised over $100 million, with products served across the world. Duncan told us how he manages to keep track of notes taken on multiple devices, the book he's revisiting to inform his work on business model innovation, and the podcasts he follows to stay up to date with industry news.
What's your background and how did you find your way to your current role?
My love of science and growing up in a rural area converged into studying agricultural science at the University of Queensland, specialising in animal science with an additional focus on extension.  An over-ambitious research project in my final year saw me flee the bench and take up a role in studstock and livestock in Tasmania with Roberts.  This gave me an invaluable grounding back at the coal face of the industry, working with clients across the value chain, throughout southern Australia.
I fell into commercial investment and commercialisation at Meat & Livestock Australia in Sydney, where I quickly realised that it was a pathway to deliver substantial impact from R&D, which had sparked my original interest in extension at university.  In these early stages of my career, I had some great mentors, particularly Christine Pitt and Peter Jones.  They also encouraged me to build my commercial knowledge and network through the Licensing Executives Society. I am currently President of the Australia & New Zealand chapter and co-chair of the International Industry and University/Government Transactions committee.
Over the past twenty years I have worked for a range of research and investment organisations, developing and delivering commercially focussed research collaborations, investments, commercial deals and start-ups across a broad range of agriculture and food industries.
The agrifood sector is a horizontal, not a vertical, and I have had the great fortune to work with amazing science teams across plant and animal value chains, including genetic and genomic tools, pest and disease control, breeding, nutrition, digital platforms, automation and robotics, value-added foods and biopharmaceuticals.
What does your current role involve?
As Director, Company Creation for Agriculture and Food at CSIRO, I lead a team that is delivering a new model for collaboration with industry partners to develop and deliver technology at a scale, scope and speed that wouldn't be possible in a conventional research collaboration.
In my last 20 years, I have seen that start-ups often have difficulty scaling; and research collaborations are often hindered by a lack of sustained investment, lack of dedicated resources from the research and industry partners, insufficient buy-in at senior levels and challenges in IP rights and ownership.  In Company Creation, we are addressing these issues by bringing CSIRO, industry, investors and entrepreneurs together as co-founders in a new venture to address big market opportunities by developing and delivering multi-disciplinary, full-stack solutions.
The plant-based meat company v2food has been our most successful demonstration of the model.  Originally established in January 2019 by CSIRO in collaboration with Main Sequence Ventures, Competitive Foods Australia (Hungry Jacks) and CEO, Nick Hazell, it has since raised over $100 million and launched products into retail and global food service.
 What time do you get up in the morning? Do you have a regular morning routine?
I'm usually up by 5:30am. Depending on the day, I will often join my cycling group… though at the moment most mornings comprise dropping my eldest son at early-morning training for the myriad sports he has immersed himself in at his new school.
What is your approach when a project gets stuck or delayed?
Rapid communication and engage the right people.  We have a great, motivated team that has substantial commercial and internal experience, that can unlock most challenges.
What program or software would you be lost without at work?
OneNote is my one-stop-shop for note taking and keeping track of my day. I find the hand-writing recognition of the notes I take on my iPad particularly useful, as well as the ready integration with the rest of the Office 365 suite.
What are you reading at the moment?
The Lean Startup by Eric Ries. It's a seminal book and I picked it up again recently as a refresher to better support the start-ups I am working with; but quickly recalled how important the lessons are for large organisations as well. It's especially relevant to establishing the internal business model innovation we are driving with Company Creation.
Has a failure, or apparent failure, set you up for later success? What did you learn?
LivestockRecording was an investment I managed in a company developing a web-based, integrated livestock and supply chain management system.  The team had substantial industry and technical experience, we had a strong and supportive industry reference group and the industry was focussed on integrated value chains and branded products which lacked the management tools.  However, we faced an uphill battle with connectivity and industry capacity and ultimately, we could not win.  I learnt the importance of timing and often consider how it might have turned out if the same team and technology had kicked off 10 years later.
What is your biggest challenge currently?
Leading the internal cultural change required to establish the new Company Creation business innovation model as a normal way of doing business.
What behaviour or habit has most improved your life?
Always putting family first and ensuring everyone in my team does the same.  Especially now, with increased work from home, the workplace is encroaching more on our personal lives. It is critical to find the correct balance.
What new technology are you most excited about?
I'm excited by the renewed promise of synthetic biology, and particularly how it will complement and change the existing food industry.
How do you stay up to date on industry trends and news?
LinkedIn is my primary source of information; along with a few agriculture and tech podcasts such as 'Agtech… so what?' and 'Pivot'.
What do you hope to accomplish this year?
I'd like to see the Company Creation model utilised as a normal way of doing business, not just in CSIRO but by other research institutions to bring closer engagement with Australian industry.
Personally, I recognise the need to 'put on my own oxygen mask first' and focus on my personal health and wellbeing, so that I can better support those around me.
If you'd like to connect with Duncan, you can find him on LinkedIn or Twitter.
Back