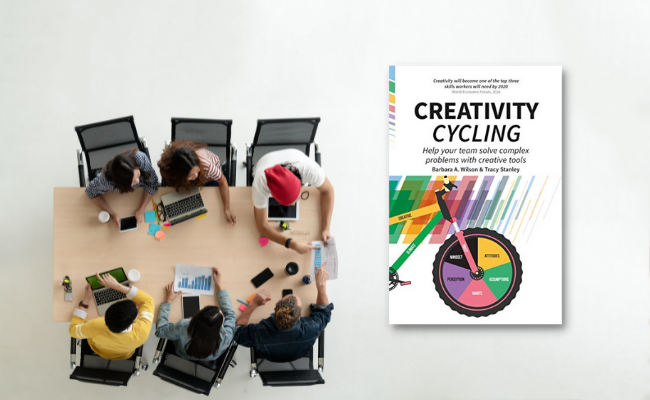 Tracy Stanley, Co-Author Of Creativity Cycling, on Thinking Differently
Posted 2 years ago
Creativity experts Barbara Wilson and Tracy Stanley help organisations to think differently – a critical skill in our disruptive world.
Leaders who need their teams to respond to complex challenges with creativity and innovation must create a workplace where creativity can thrive. But creating this culture requires more than pizza Fridays and a truckload of post-it notes.
'Creativity Cycling' provides an overview of the conditions required for creativity and presents a tried and tested process for solving complex problems and envisioning the future.  We spoke to Tracy Stanley about how creativity can be embedded within a company culture and incorporated into processes to make organisations more competitive, profitable, and resilient. 
---
What was the impetus behind writing this book? What problem did you observe that made you feel the book was needed?
I'd known Barbara for 20 years and had participated in one of her creativity workshops. I'd just completed my PhD examining how work environments contribute to creative behaviours. We were having lunch and I was talking about a podcast I'd been listening to about the challenge of co-writing a book, and I suggested we should try it. We were both aware of the complex problems businesses were facing and of the over-reliance on approaching these using analytical tools.  So we wanted to write an insightful and practical book that would help managers, to help their teams to think differently.
Some senior executives regard creativity as an artistic trait, not something to be applied to business. What would you say to change their mind?
Innovation is crucial in any organisation, even if its adaptive innovation. Innovation requires a creative mind, that is open to new ideas. There are tools and processes that can help anyone to think differently or more creatively. However, it's important to understand people's mindsets, how they show up to an activity requiring different thinking, and the importance of understanding the climate within which they work. So yes, anyone can think creatively, if they are open to it.
Innovation is crucial in any organisation, even if its adaptive innovation.
    – Barbara Wilson, Creativity Cycling
In the book, you propose a process for applying creativity in a structured, methodical way. Can innovation really work within the confines of a structured process?
It is a very loose structure within which there are lots of different possibilities, for example, tools and techniques can be chosen to suit different needs. It is within these that the looseness appears and the creativity. It is a process for problem-solving so has to have a focus. However, it is not rigid and methodologies are not applied according to a standard approach. Even innovation requires some semblance of structure. For example, at the early stages, allocation of time and resources, then at later stages a funneling of best ideas to be developed further.
For some, creativity comes easily. For others, it's a difficult concept. What can someone who is unfamiliar and uncomfortable with being creative do to improve their creative abilities?
Start with small steps and try some techniques – maybe different approaches to brainstorming such as reversals, where you ask 'how can we ensure this problem gets worse?'. This starts to loosen up thinking.
What is something every organisation can do today to foster creativity in their workforce?
Allow mistakes to be made and have a process for reflection and learning. This starts to open up an organisation's thinking. Having more visual imagery and a more playful environment in appropriate areas can also help stimulate creativity in a corporate environment.
"Having more visual imagery and a more playful environment in appropriate areas can also help stimulate creativity in a corporate environment."
  – Tracy Stanley, Creativity Cycling
What did you learn in the process of writing this book?
To check out our individual perceptions of the other! And their way of working/thinking. Also, it takes longer than you realise to write a book, particularly non-fiction.
As we had been forewarned, there were challenges in writing a book together. We didn't agree on everything and we used this as a learning point, sharing our different perspectives in the book. When you are engaging in creative thinking it's important to be open to different and wild ideas and to not see things as black or white or right or wrong.
At the end of the day, the process of writing a book clarifies your thinking. We're really proud of what we created together.
---
Creativity Cycling is available on Amazon, Book Depository and Google Play.
Barbara and Tracy are also the are the co-hosts of the Creativity Snippets podcast, where they discuss all manner of topics creatively related.
Back