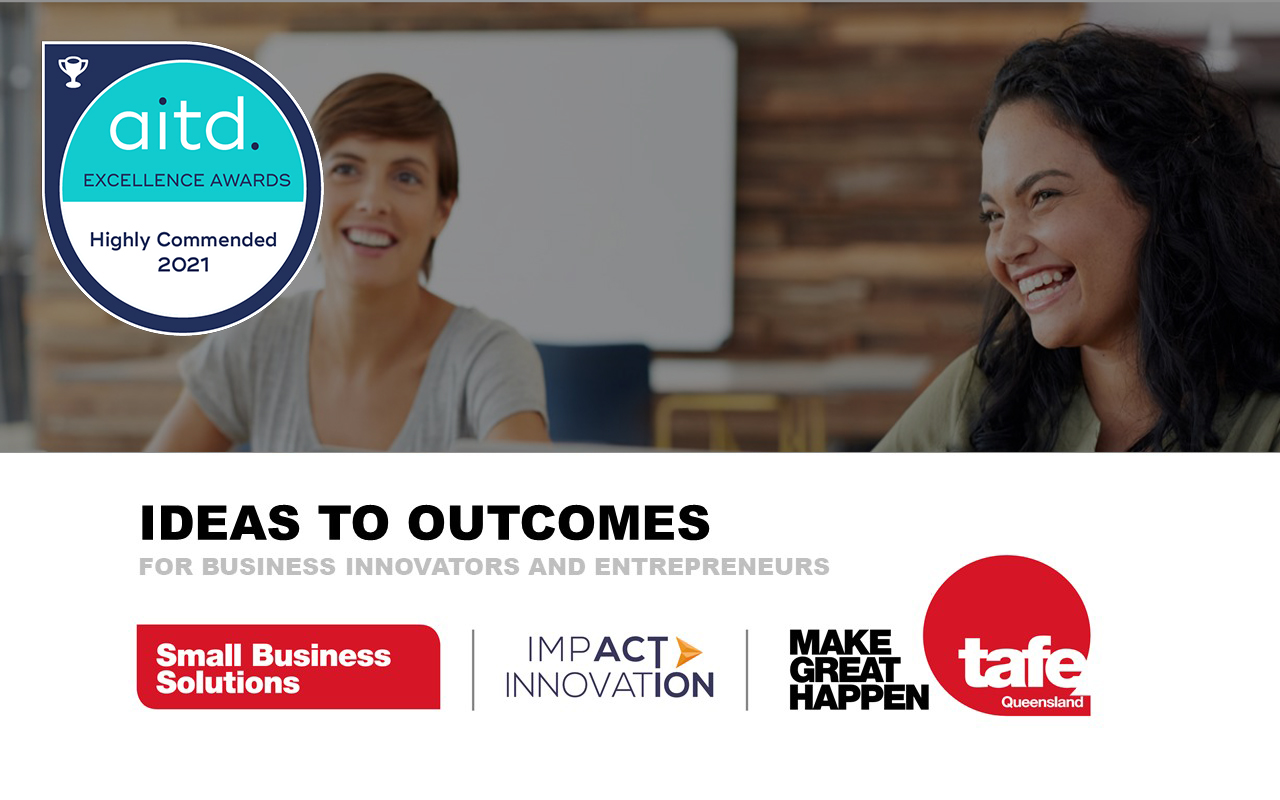 Impressive Outcome for Developing Ideas Program
Posted 2 years ago
Impact Innovation is proud to share the news that our Ideas to Outcomes program has been awarded Highly Commended in the category of Best Capability Building Program in the 2021 AITD Excellence Awards.
Run by the Australian Institute of Training & Development (AITD), the awards celebrate the role of learning in workforce engagement and performance.
Ideas to Outcomes is a practical mentoring and skills development program that guides businesses through the de-risking process for taking new technologies and enterprise ideas to market. Its accelerated learning format, resulting in a nationally accredited qualification, has proven popular with busy small business owners.
Leanne Wyvill, our senior associate who runs the Ideas to Outcomes program, said recognition for the program in this way was deeply appreciated.
"When you're the owner or manager of a small business, it's a major decision to put time and financial resources into professional development," Leanne said.
"Training takes you off the tools or away from customer interactions and that costs both time and money, even though growing your business depends on it. That's why we make sure that everyone who goes through the Ideas to Outcomes program receives value for their investment.
"We're very proud of the program's success and of the success our graduates have enjoyed because of doing the program," she said.
Since July 2019 the Ideas to Outcomes program has helped:
44 graduates
28 women
16 men
7 Indigenous innovators
21 regional businesses
Graduates have reported these outcomes since participating in the training:
Clarity and/or direction – 85.7%
Revised the business model – 85.7%
Joined/strengthened a supply or value chain relationship – 71.4%
Confidence to proceed – 71.4%
Improved business practices or systems – 64.3%
Graduates received a Certificate IV in Small Business Management from TAFE Queensland (RTO 0275). Impact Innovation provides training and assessment of this accredited qualification on behalf of TAFE Queensland Small Business Solutions.
We congratulate the winner of the Best Capability Building Program category, the Australian Department of Foreign Affairs and Trade, and our fellow Highly Commended Awardees: OpenLearning Limited with Australian Catholic University and Woolworths Group with TAFE NSW.
We also acknowledge the efforts of the other organisations whose programs were selected as finalists in our category:
Australian Bureau of Statistics
Cerebral Palsy Alliance (CPA) and @Kineo Courses
EY
GPC Asia Pacific and @Repco
nbn™ Australia
Optus
Rio Tinto
---
If you would like to learn more about our innovation and commercialisation training, check out the options on our website.
Back