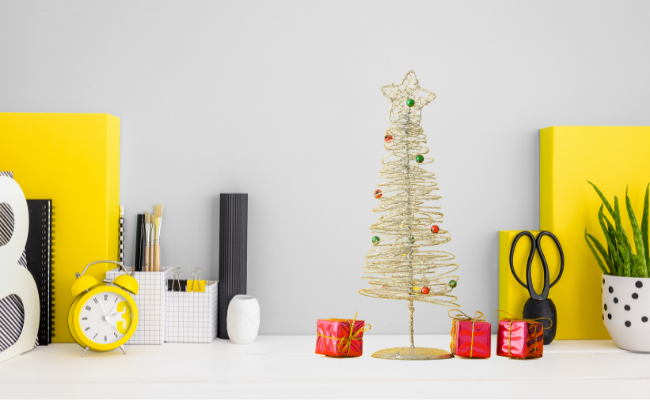 Impact Innovation Group Newsletter December 2021
Posted 2 years ago
December 2021 Newsletter
Innovation news, research, opportunities, and insights from Impact Innovation Group.
Subscribe here to receive future monthly newsletters to your inbox.
---
Informed
Stuck for ideas? Here's what every Innovation Manager wants for Christmas. Read More
A UK company has commercialised the Gomi Speaker – an environmentally-friendly 25W Mono Portable Speaker made from 100 waste plastic bags, with 100% of the power coming from repurposed batteries saved from damaged Lime e-bikes. Read More
Impact Innovation is delighted to share the news that our Ideas to Outcomes program has been awarded Highly Commended in the category of Best Capability Building Program in the 2021 AITD Excellence Awards. Read More
Could forest waste help fight climate change? A University of the Sunshine Coast researcher is investigating innovative ways in which forest waste can help fight climate change and boost the incomes of farmers and landowners. Read More
In November we celebrated National Agriculture Day, highlighting some of the innovative agribusinesses we've worked with over the past few years, and the contribution they are making to moving us towards a more sustainable future. Find out what Agerris, Bioherbicides Australia, Invest Inya Farmer, and AEGIC have been up to. Read More
Curious about how the ISO Innovation Management Standards are being applied in Japan and Australia? We spoke to Hiro Nishiguchi, CEO of Japan Innovation Network (JIN), and Cettina Raccuia, Head of Royal Auto Club WA's CoLAB, to unpack real-life examples of how the standards are re-shaping the practice of innovation management across the world. Read More
It's been a big year… here are the Best Inventions of 2021 according to TIME magazine. Read More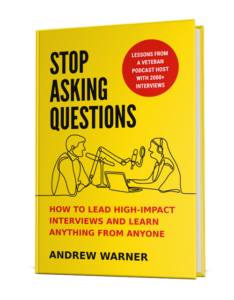 Stop Asking Questions: How to Lead High-Impact Interviews and Learn Anything from Anyone
By Andrew Warner
Andrew Warner has interviewed over 2,000 of the world's best entrepreneurs to uncover the real factors behind their success. But he's also learned something even more valuable: How to learn anything from anyone through high-impact interviewing. After a decade of honing his craft, Warner shares how to lead deeper, more meaningful conversations with people you admire. Read More
---
Inspired

Client Success Story of the Month – Aurecon
IIG client Aurecon is exploring the future of transport, finding innovative new ways to utilise and leverage transport data to reshape our transport systems. The transition out of the COVID-19 pandemic offers unique opportunities to operate existing transport systems more effectively. By leveraging the collective experience and expertise of Aurecon's urban mobility teams in Australia and New Zealand, they have collated a series of ideas for how travel demand management measures applied to our mobility networks can bring completely new experiences for transport operators, managers and those who depend on them.
---
Influential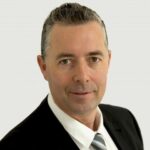 Dr Michael Storey, Managing Director, Isle Utilities Pty Ltd (Asia-Pacific)
This month we spoke to Dr Michael Storey,  Managing Director (Asia-Pacific) at Isle Utilities, a global team of scientists, engineers, and business experts, making a positive social, economical, and environmental impact through the advancement of innovative technologies. Michael spoke about his work in the water industry, his passion for cycling, and his belief that servant leadership is the best way to lead a team of innovators.  Read More
---
Involved
EvokeAG (Perth, 23 Feb and Sydney, 16 March) is the premier agrifood tech event, attracting the entire ecosystem – leaders, farmers, innovators, researchers, universities, corporates, government and investors to one location to connect and collaborate.
SAP Effect (Sydney, Auckland, Canberra, various dates) has been described as the ultimate innovation experience. Bringing together a collection of both homegrown and global innovators, SAP delves into how insights can be turned into effective actions.
Challenge: Sustainable and Economical Peat Replacement (Online, closes 20 December). Israel Chemicals Ltd (ICL) is looking for sustainable and economical alternatives to the use of peat for horticultural applications. An award of up to $15,000 will be paid for the best submissions.
The Age Innovation Summit (Melbourne, 2022)  The Age Innovation Summit will look at how we successfully translate research and achieve commercialisation, what the key investments will be in the next 10 years, and how individual states are lifting their sovereign capabilities.
---
Intrigued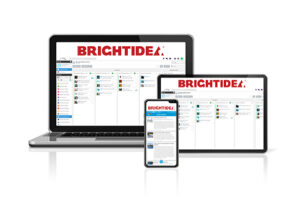 Product Profile
How do more than two million people worldwide capture and progress their ideas effectively? Using Brightidea idea management software. With more than $16 billion in net benefits recorded to date, BrightIdea can help you engage your employees at scale, collaborate on novel solutions, and foster a genuine innovation culture. And their new interactive online whiteboard feature is super fun.
---
Subscribe here to receive future monthly newsletters to your inbox.
Back