The Ideas to Outcomes practical mentoring and skills development program guides high growth businesses through the de-risking process for taking new technologies and business ideas to market. Click the image to watch a quick video about its benefits.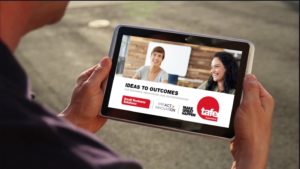 We have designed this interactive course with TAFE* Queensland's award-winning Small Business Solutions team. The blend of small-group workshops, one-to-one mentoring and online activities equips you to:
run an ideas-based business
create a user-friendly action plan
develop and validate your ideas as you learn
incorporate digital technologies
stay focused with practical tools and techniques
The workshops are where you'll learn the steps (and pitfalls to avoid) for creating value from new ideas, including business modelling and IP pathways, managing risks, preparing and pitching for investment, entrepreneurial thinking, and collaborating successfully.
See below what our recent graduates say about their experience.
TIME-SAVING SOLUTION
The course takes just less than weeks to complete, depending on when you submit the assessments.
Another time-saving benefit is that these assessments all relate to your business. It's a way of addressing aspects of business growth you might otherwise neglect – that's why the quizzes and spreadsheets include topics such as:
communicating value propositions
business modelling
entrepreneurial thinking and practices
commercialisation process
funding options
customers and competitors
revenue and cash flow projections
planning tools
branding and marketing
prioritising resource and effort allocation
time and stress management
compliance and regulatory matters
You get to focus on these aspects of your own business while you're learning, while you're working towards your qualification.
COST-EFFECTIVE LEARNING & SUPPORT
You may be eligible for the generous subsidies, especially if you operate a Queensland-based business with an ABN, identify as Aboriginal or Torres Strait Islander, or hold a Department of Veterans' Affairs Pensioner Concession Card.
Depending on your circumstances, you may also be able to claim this training as a self-education tax deduction.

Enrol or enquire today by calling 1300 40 60 80.
Course dates in 2020

Brisbane (live)*

South Bank TAFE
66 Earnest Street
Tuesdays 28 July –
25 September
5.30 pm – 8.30 pm

200 Mary Street
Brisbane CBD
Wednesdays 16 September –
20 November
9.30 am – 12.30 pm

* 4 x 3-hour workshops

Online (live)*

Mondays 27 July –
25 September
9.30 am – 11.30 am

Thursdays 17 September –
13 November
6.00 pm – 8.00 pm

* 6 x 2-hour workshops

Please note:
The group mentoring workshops are held weekly at the same time and place for each intake. The course can be offered at other Southeast Queensland locations – let us know where you want it!
Here's what some of our graduates have said about this course:
The Ideas to Outcomes program helped me focus on critical elements of my startup.
It was good to get some of the gaps in my knowledge filled at the group workshops, and the action planning assessment meant that I got stuff done that I had been putting aside (for way too long)!
Completing this program means gaining a nationally accredited business qualification and that's really helpful to me for assuring investors and my target audiences that I am skilled, educated and capable of running and growing an innovative enterprise ready to scale across the world.
If you're thinking about enrolling in this course, I'd recommend checking it out and say "do it!". – Anne-Marie Walton, CEO & Founder, KidswantU

The course helped me gain clarity and refine my business model to be able to bootstrap my company rather than seek investment. This has been a critical way forward, given the difficulties of procuring investment in the current climate. – Stephen Taylor, CEO, Pulsar Aerospace

It's opened my eyes to what you have to think about and do if you want to turn an innovative concept into a viable venture. It's challenged me to really look at who my customer is and how to reach them, especially when you're offering something new to the market that no one else is doing. – Robyn Lawton, Founder, Artisan Escapes

Completing the Cert IV in Small Business Management through the Impact Innovation Group and TAFE Qld gave me the knowledge and confidence that I required to move forward with my small business development. I found the face to face sessions really valuable and I acquired many skills to help in both the short term and long term. I highly recommend it to anyone looking to develop their skills in small business management. – Melissa Mitchell, Co-founder, Swap Kids Stuff

*TAFE Queensland RTO No.0275