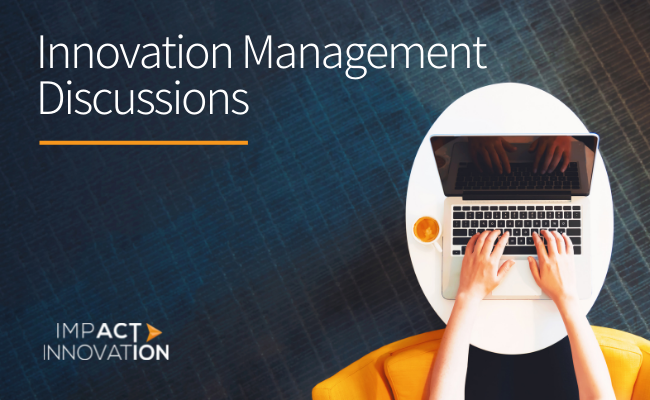 Teresa Brown from IAG: Innovation in a COVID world.
Posted 2 years ago
How has COVID-19 changed the landscape for innovation professionals? To what extent have our innovation systems had to adapt? What have we learned over the last twelve months about the way we work, communicate and lead?
Teresa Brown, Principal of CX Improvement, Strategy & Innovation at Insurance Australia Group (IAG), joined us at the Innovation Practitioner Meetup event on 6 July. She spoke to Cameron Johns, General Manager at Impact Innovation, about how COVID-19 has changed the landscape for innovation managers everywhere.
Innovation CAN work remotely.
When asked about the effect COVID-19 has had on her innovation team, Teresa said they were challenged to think about how they go about work differently, instead of staying trapped in old habits or assumptions.
Traditionally, ideation and brainstorming sessions were always held in person. It was the established belief that they could not work effectively in a virtual environment. But now? We have found that with the right tools and an open mind, brainstorming or other interactive workshops can work remotely.
"Connection and interaction is possible online. We are getting better at it, much better than when COVID first started. We've adapted to a more virtual environment," said Teresa. "We've learnt what can work, and we're improving what doesn't."
Keeping it real.
Rather than make us more removed, sometimes the virtual platforms on which we operate have even bought us closer together. We now have more insight into each other's home lives that ever before. There is a much greater tolerance for the constant juggle between life and work, and the overlap that inevitably occurs during lockdowns and working for home.
"Now we've seen people in their natural home environments. We've seen children on laps, CEO's in hoodies… it's all more real," said Teresa.
That personal connection plays an important role in maintaining good mental health. Teresa said that within her team, the ad-hoc 'touch base' calls have been vital to ensure colleagues are doing ok. Teammates need to have the ability to lift each other up, and pitch in to help when overwhelm takes over.
"We're not walking past each other's desks and connecting anymore, so these informal calls are really important."
Innovation relevation.
Teresa found that when COVID-19 hit, innovation became more relevant than ever. While there have been plenty of downsides to the pandemic, one positive outcome is the way innovation suddenly took centre stage.
"At IAG, the pace of innovation has really lifted," Teresa said. "Decision-making sped up."
Teresa told us how IAG created processes specifically to expedite decision making. A steering committee of executive decision-makers was established, with streams for each business unit (A HR stream, a customer stream, a security steam, etc). Kanban boards were set up and any issues that came in went to the relevant stream, and it were quickly progressed. Executives on the steering committee were responsible for each stream. This allowed the organisation to keep on top of issues as they arose. Daily cadences were held to progress tasks initially, and this was moved to twice weekly and then once a week as things settled.
However, Teresa acknowledges that complexity in the innovation space remains a challenge, and it is not going away. Bureaucratic systems, complicated processes, new technology, increased regulation – all these things can slow innovation down. But the pace of change is now faster than ever before. One of the biggest challenges facing Innovation Managers now is keeping up with the demand for new ideas and solutions, with limited timelines for delivery.
But Teresa is optimistic. "We've seen what we can do. Now we have no choice but to innovate."
What's next?
Cameron Johns observed that we might not bounce back, but we might bounce forward. Teresa agreed.
"The world has changed, the way we do business has changed. I hope we keep the ability to challenge what we believe is true. I always flew to Sydney or Melbourne because I thought I had to be with the team face to face. But when we had no choice, we made it work online, and now we know it's possible."
Office space is also changing dramatically. People are coming into the office only to do work they can't do at home. That means collaborative meetings and purposeful connection sessions – not desk work. This, of course, requires different office layouts. Collaborative meeting spaces, high tables and gathering points – not filing cabinets and big desks.
More than anything, Teresa is adamant that an open mindset is essential for innovation, now and into the future. Disruption and change is the new normal, and to work effectively within that context, innovation managers need to build an agility mindset.
"I'm working to remove 'no, because' and introduce 'yes, and'. Stop shooting down ideas. We all need to broaden our thinking."
Dealing with and working with ambiguity, and being comfortable with change, are some of the skills innovation professionals will need to thrive into the future.
---
If you would like to receive an invitation to our next Innovation Practitioner Meetup event, join the Impact Innovation Lab group.
Impact Innovation Lab provides members with practical insights to drive a return on innovation investment. Through masterclasses, webinars and moderated discussions we connect and support innovation business leaders with 'real world' advice and connections, to help navigate the complexity of business innovation. We share tools, techniques and best-practice examples on turning ideas into valuable products and services.
Back