Female Founders Growth and Scale Mentoring
Our Growth and Scale Mentoring program is designed to support established businesses, connecting you with skilled business mentors to help you identify and prioritise the key areas of focus required to fast-track your growth.
How it works
If you're accepted into the program, you'll be matched with an experienced business growth mentor who will work with you over the course of three, one-hour sessions.
A tailored business growth plan will be provided to participants on completion of their three sessions, designed to drive activities in key priority areas to accelerate the growth trajectory.
What you'll work on
Your Growth and Scale mentoring sessions will focus on:
Commercialising new products or services
Ways to expand into new market segments
Exploring opportunities for export
Preparing your business, your processes and your team for scale
Key areas of the business that must be addressed to enable growth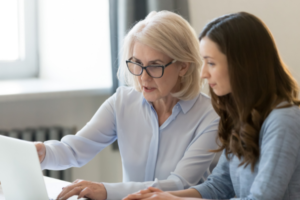 Your mentor will also connect you with other government resources (both State and Federal) that may be of use to support your business growth journey.
No cost to you
As the program is government-funded, these sessions are free, confidential, and focused on mapping out your personal pathway to business success.
Convenient and Accessible
Sessions will be conducted online or over the phone, making them convenient and accessible no matter your location.
Eligibility
Entry into the Female Founders Growth & Scale Mentoring program is competitive, and completing an application does not guarantee entry into the program.
To be eligible for this mentoring program, you must confirm that you have:
A business that is registered in Queensland
Been operating for a minimum of 12 months
An annual turnover of at least $25,000. For the purposes of this program, turnover can include revenue, grants, crowdfunding etc.

Find your Mentor Match and apply for the Female Founders Growth and Scale Mentoring program today.
dunkle authentic

Over six years dunkle authentic achieved steady growth. The past 2 years saw a major increase of profits year on year, which has allowed Female Founder Molly Dunkle to devote all her time to ensuring continued growth and new product development for the business.

Molly's growth plan included the opening of a dedicated studio. However, doing this right as the COVID-19 pandemic hit was not part of the plan! Mentoring helped Molly pivot, overcome the hurdles presented by COVID-19 and innovate her way to continued growth.

Discover how mentoring helped Molly Dunkle

Critterpedia

Avid nature lovers Murray and Nic recognised a gap in the market for an instant creature identification app. When seeking to identify venomous snakes and spiders, nothing seemed to be in the one place – information was spread across Google images, Wikipedia, snake apps, spiders apps, wildlife Facebook groups and more.

With an English ex-pat's heightened paranoia of Australia's 'deadly' wildlife, and two young girls to raise, the Critterpedia team realised there was a need for readily available information surrounding venomous snakes and spiders, their behaviours, and precautionary advice. The project scope has since grown from a wildlife identification app to an 'Australian Wildlife Stay Safe Buddy' platform.

Critterpedia has since been successful in securing CSIRO Kick-Start funding for this project and CSIRO's Data61 is looking forward to collaborating on a machine learning engine for automated species identification.

Access three, one-hour mentoring sessions with an experienced business advisor - free of charge!
Mentors
Our mentors are here to support you on your journey and as past and present business owners themselves, they understand the unique challenges faced by high growth businesses. They have a raft of experience in a range of industries, and have worked with startups and businesses on everything from innovation, ideation, commercialisation, and growth and scale.
Brisbane

Kellie Dyer

Mentor

Kellie is a creative and enthusiastic person with a diverse range of experience. Kellie has applied her highly regarded skills in business, technology, and innovation to supporting large infrastructure organisations, small and medium-sized businesses, academia, and other research centres. Working as the Adoption and Commercialisation Manager for a research-based organisation allowed Kellie to appreciate different commercialisation strategies. Pragmatic, versatile, adaptable and with a strong sense of determination are qualities that have naturally drawn Kellie towards activities that involve bringing diverse groups of people together to achieve mutually beneficial business objectives. Kellie is a non-executive director of a financial services organisation and a national research organisation. She has been involved in a number of strategic projects, including launching spin-offs and re-branding and re-positioning other types of organisations. Kellie is a certified Innovation Facilitator and is both a graduate and member of the Australian Institute of Company Directors.

B.Bus. (Mgt & Mkt), MBA (Tech Mgt), GAICD

Technical specialities: Commercialisation processes, R&D, research collaborations

Sector specialities: Financial services, local government, research centres

Dr. Tracy Stanley

Mentor

Tracy is a Social Scientist with expertise across intrapreneurship, organisational change and employee engagement. She has worked across the Asia Pacific and Europe in consulting and senior human resources management roles. Through her work in multi-national companies, she has advised clients on end-to-end innovation processes, coached individuals and facilitated workshops designed to build skills in creativity and innovation. She co-founded the Nice-Cote D'Azur branch of the European Professional Women's Network dedicated to the career advancement of women. More recently she has been a mentor for Start-up Weekend at River City Labs and Women in Digital. Always keen to learn, she's a speaker and participant in events within the Queensland innovation ecosystem and was chuffed to be a member of a winning team at the Department of Transport and Main Roads, Bike Hackathon. She has a number of start-up projects and loves helping others to be successful with their entrepreneurial activities.

PhD, M.B.A. MBus (Research), GAICD, B.Bus

Technical specialities: Creative Problem Solving, Intrapreneurship, End-to-End Innovation Process

Sector specialities: Technology, Travel & Professional Services

Pushpa Bakshi

Mentor

Pushpa over 25 years has honed her skills on international stages in Government, Education and Multinational companies.

Her Directorship and Governance strength has demonstrated her abilities developing industrial relations and long-term partnerships with associated projects. With know-how in compliance and sitting on various Boards both profit and non-profits, Pushpa reported to diverse Executive Committees, Council, Government and Stakeholders.

Being a performance-driven, forward-thinking, multi-lingual Business Executive, Pushpa has accumulated far-reaching expertise in facets of leading profit-generating operations through innovative team development and a superior understanding of client needs. Her leadership organisation endeavours to meet customers' needs in all aspects.

Pushpa enthusiastically empowers audiences, taking projects on a journey of dependable progression. As a Coach, Speaker, Author and Transformational Leader, Pushpa's mission is to inspire, lead and transform individuals & organisations through their people. She provides mentoring in Entrepreneurial, Innovation Leadership to Corporates, SME's, Professionals, Millennials, Women, and Individuals resulting in countless successful outcomes.

Technical specialities: leadership & innovation, business essentials, entrepreneurship and corporate excellence

Cameron Johns

Mentor

Cameron has worked for over 20 years assisting business, ASX-listed companies, research organisations, not-for profits, social enterprises and global Fortune 500s to take ideas and turn them into products, services and impact. Cameron has assisted with over 65 Industry to Research Collaborations to assist in the commercialisation and translation of research into outcomes and impact. Cameron has trained many Australian and International research organisations in commercialisation and innovation, as well as working with these organisations to drive their innovations out into industry. He is the co-author of the Research Innovation Canvas; an innovation evaluation tool which several National and Australian research organisations use when developing new commercially-viable projects. Cameron is also a master of lean canvas methodologies and has implemented these skills in many projects.

Cameron's proven experience in delivering innovation training and his experience in commercialisation across Australasia was key in him being part of a small team that created the learning blueprint for training new patent attorneys for IP Australia and the World Intellectual Property Organisation. He has consulted on the go to market strategy of numerous innovations and IP portfolios from research organisations and industries.  Cameron has also founded and run start-ups and also created and managed a private equity firm to invest in early stage innovations. He has raised hundreds of millions of dollars for his clients, and for himself,  which gives him end to end understanding of commercialisation and innovation.

B.App.Sc. (Aquaculture), Grad.Dip. Commercialisation, Cert IV Project Management, Cert IV Small Business Management

Technical specialities: commercialisation, university-industry collaborations, capital raising, business models and innovation systems

Sector specialities: food & agribusiness/aquaculture, professional services, research sector and not for profits

Wilma James

Mentor

Wilma has a passion for growing successful companies.  She has over 20 years' experience in understanding how great science and innovative technology need to be nurtured and translated into products and services.

Wilma's experience includes being CEO of Bravehearts, a national NFP leading Australia in the safety of children that exposed her to the community services sectors.  She worked as a Senior Director, UniQuest (UQ's commercialisation company) for nine years delivering 4,000 industry partnerships.  Wilma is a Fellow of Governance Institute of Australia with 10 years of governance experience.

Wilma works with companies to ensure they know where they are going, how they are going to get there and how to stay focused.  She knows that technology and the idea is not enough! Being able to create an innovative culture is essential to a company's success and sustainability. Wilma helps businesses create cultures that attract great employees, investors and customers.

B.Bus (Mgmt, HR Mgmt), PgDip Corporate Governance and Risk Management, FGIA

Technical specialities: Business Strategy, Growth, Culture & Team Development, Operational Effectiveness

Sector specialities: Community Services, Healthcare, Education, Material & Manufacturing, Environmental, Water Management

Lewis Atkinson

Mentor

Lewe is a unique innovation and design-thinking professional and international Strategic Management facilitator. He has 30 years' experience in knowledge production and transfer through both commercial and public-good innovation pathways to market. He started his boundary-spanning career in FMCG operations, planning and research with Unifoods Australia. In 1993 he became Research and Information Services Manager for Australian Meat Technology Pty Ltd, a CSIRO technology start-up and management consulting company. He joined a team that started a new industry-owned innovation and marketing services company – Meat and Livestock Australia Ltd – where he has held several senior executive positions over the past 16 years. Lewe's solid technical and financial grounding, combined with a strong creative side, enables him to see patterns, pathways, and solutions that others often miss. He works with clients all over Australia facilitating and consulting in Strategic Planning & Management, Innovation, Cross-boundary Collaboration and Research Leadership Development.

B.Sc. (Health & Biological Sciences), Chartered Engineer, Chartered Chemist

Technical specialities: Innovation systems, product development

Sector specialities: Meat & livestock, agribusiness, profit-for-purpose & community organisations

Anne-Marie Walton

Mentor

Anne-Marie brings a first-hand understanding of entrepreneurs' needs through her immersion in the startup sector as; a founder; former Community Manager of Fire Station 101 (one of Queensland's leading innovation hubs; and via the University of Southern Queensland as part of the development team of an entrepreneurship program for women. Anne-Marie's knowledge is supported by 20+ years' experience in corporate, small business and community ventures. She has a large network of contacts in the government and private sector and a strong background in human resources, business operations and effective stakeholder engagement. This has come from a track record in event management, driving partnerships, maximising resources and streamlining processes. As the founder and CEO of KidsWantu, a marketing and social impact platform that helps busy families have quality fun time together, Anne-Marie is an working example of how to take an idea and scale it to the world.

Technical specialities: Business Strategy, Community Building, Presentation Skills

Sector specialities: Entrepreneurship, Human Resources, Communication

Angus Crossan

Mentor - Remote (phone/video) consultations only

Angus is passionate about supporting Australian business' to thrive by implementing the best innovation and commercialisation practices. Beginning his career as an academic at the University of Sydney, Angus quickly realised he was most interested in how R&D efforts could be practically applied and commercialised.

With experience leading the Australian egg industry's R&D program, and driving Australia's food innovation initiatives while working with Food Innovation Australia (FIAL), Angus excels at developing leading-edge strategies that align with business objectives. He also is highly skilled at leveraging investments, stakeholder management and encouraging best practice design-led thinking in external organisations.

Angus has also co-founded six start-up ventures in the biotechnology, services and digital space. His expertise and ability to influence has lead to his appointment to a number of government and university economic development and innovation advisory committees and he has become a commercial advisor to a new digital medical platform start-up. He has won a Federal Government Science and Innovation Award for Young Scientists in 2007 and an International Specialised Skills Fellowship in 2011.

B.Sc. (Hons), PhD, MAICD

Technical specialities: Business modelling, Entrepreneurship, Start-up Venture Building, Strategy, Program Management, and Commercialisation of R&D.

Sector specialities: Food and Agriculture, Chemistry,  Environment, Biotechnology, Research Sector, and Digital.

Jo Burgess

Mentor

Jo is an experienced entrepreneur with a proven track record of building many successful businesses over the past 30 years.

She co-founded and is a senior executive of a world leading salon management software platform. She also launched the first range of eco-friendly consumable products into the hair, beauty and gym markets across Australia, creating a market for luxury sustainable products. More recently, using her vast experience of developing calendaring and booking systems for the complex international salon environment, combined with having a family and managing a household she launched her latest innovation, a digital family organiser.

Jo is passionate about bringing unique visions to life – taking concepts from insightful ideation through to best-practice execution in the market (across B2B & B2C). Her expertise lies in her practical approach to solving problems across all aspects of business strategy, innovation, distribution, user journey mapping, software and product development, marketing and commercialisation.

Technical specialities: Business Strategy, Software Innovation, Marketing, Commercialisation, SaaS User On-boarding and Conversion.

Sector specialities: Service-based Industries, Product Distribution, B2B and B2C Software Development.